Josh Waters leads Team Suzuki to win Phillip Island 8 Hour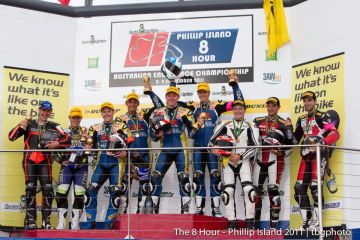 The Team Suzuki trio of Josh Waters, Troy Herfoss and Robbie Bugden has produced an imperious display of calculated, front-running racing to easily claim the honours in the inaugural Phillip Island 8 Hour Australian Endurance Championship at the Victorian circuit this afternoon.
The factory-backed outfit didn't put a foot wrong all day, starting from pole position before seizing control from the outset – a Le Mans start — thanks to the in-form Waters. With impressive back-up service from Herfoss and Bugden, the trio already had a vice-like grip on the race by the halfway mark, and the final stanza was all about maintaining a consistent pace, staying clear of any potential trouble, and making sure their fuel and tyre management strategies were spot on. And they made every post a winner, with the GSX-R1000 completing 279 laps – or 1241km – of the 4.448km circuit to finish five laps ahead of the GSX-R600 piloted by Brodie Waters, Ben Attard and Mitchell Carr – a quinella for Team Suzuki.
Josh Waters also set the fastest lap of the race (1:34.805) to make it a clean sweep of accolades for the winning machine. "It was a pretty cool day, and the team didn't miss a beat all day," said Josh Waters. "It's also been great working with two great riders and it's a credit to Suzuki and our whole team for the way the bikes have been prepared. "I'm also stoked that my brothers have joined me on the podium, and it will certainly make for a great photo."

Waters was third in last year's Phillip Island 6 Hour alongside erstwhile Suzuki teammate Shawn Giles. Meanwhile, the Cube Racing GSX-R1000 of Ben Henry, Bryan Staring and Nicholas Waters began the race in impressive fashion, swapping second position with Waters/Attard/Carr for a fair amount of time until it became firmly ensconced in third spot by the four-hour mark. And that's where the triumvirate remained, with the three leading teams clearly setting a pace which was unmatched by the other 23 bikes in the race. And the third place for Cube Racing also completed a golden day for the three Waters siblings from Mildura, who all made their way onto the dais.

Other than a light sprinkle just after the start, the race was held in dry conditions, which probably helped to keep the attrition rate to a minimum. Amazingly, 22 of the 25 teams completed the distance, although a few of them had to spend lengthy periods in the pits tending to crash repairs or mechanical gremlins.
2011 Phillip Island 8 Hour, Australian Endurance Championship Results:
1. Team Suzuki (Josh Waters/ Herfoss/Robbie Bugden), GSX-R1000, 279 laps
2. Team Suzuki (Brodie Waters/Mitchell Carr/Ben Attard), GSX-R600 +5 laps
3. Cube Racing (Ben Henry, Bryan Staring/Nicholas Waters), GSX-R1000, +9 laps
4. Bridgestone (Trent Gibson/Greg Epis/Jay Layman), GSX-R1000, +15 laps
5. WNR Kawasaki (Glenn Scott/Jed Metcher/Alex Cudlin), ZX-6R, +17 laps
6. Lovetts Earthmoving (Phil Lovett, Simon Galloway/Dustin Goldsmith, Kawasaki ZX-10R, +19 laps
7. WET4U Racing (Paul Grant-Mitchell/Colin Lewis/Murray Clark/Michael Thomas), ZX-6R, +24 laps
8. California Superbike School (Kris Parnell/Luke Martin/Josh Galster/Adam Raffe), GSX-R600, +25 laps
9. Mick Muldoon Kawasaki (Sam Muldoon/Steve Wood/Jim Burke), ZX-10R, +27 laps
10. Dirty Bits Racing (Rob Vikuckis/Jamie Videon/Brian Clow), ZX-6R, +27 laps