Josh Waters debut win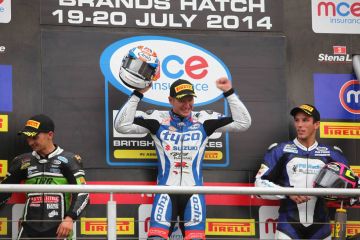 Josh Waters claimed his debut BSB win, on a wet but drying track during a restarted race two at the Brands Hatch GP track.
The weekend hadn't been going to plan with Josh just scrapping into the points in race one finishing 14th.
The former two-time Australian Champion took the win in the reduced lap race two, after taking the lead on lap 4 and swiftly building himself a 5 second advantage.
Josh said "It feels awesome! I didn't think I would come away with a win after the weekend I've had. When I got into the lead I thought 'this is really cool - far out!!'. Then I was just trying to keep the gap because I thought they would reel me back in."