Waters joins Halsall Racing for Silverstone & Brands Hatch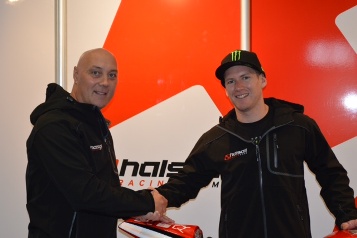 Double Australian Superbike champion Josh Waters has confirmed that he will be joining the Lancashire based Halsall Racing Team for the final two rounds of the 2013 MCE Insurance British Superbike Championship.
Waters will now take the vacant seat left by outgoing rider Tommy Bridewell who recently parted company with Halsall Racing to pursue other options. The Australian from Mildura will contest the final two rounds of the Championship at Silverstone and Brands Hatch, with a possible view to extending the agreement with the team into next season.
Business entrepreneur and Team owner Martin Halsall expressed his delight at securing an agreement with Waters. Speaking from the teams' headquarters in Bolton, the team boss issued the following statement on the appointment.
"Josh is a rider that comes with a very strong racing pedigree having secured two Australian Superbike titles. His recent performance at the Le Mans twenty-four hour demonstrated his capability further and he could have easily gone on to a podium had the team not suffered mechanical issue. His performance impressed me greatly with outstanding lap times on the BMW S1000RR, which he had not ridden previously" said Halsall.
"Since our ride became available, there have been a number of approaches which I have assessed carefully. I had only come to know Josh in recent months and very much liked what he was about. I believe with a strong team behind him and the performance of the Kawasaki which we have shown to be a leading contender, I wanted to give Josh an option for the remaining rounds, with a view to extending for next season also. We will evaluate that position fully after Brands and see whether it is something which can be agreed between both parties. I will sit down with Josh at the appropriate time when it is good for both of us. For now, the focus for the team and Josh is on the rounds at Silverstone and Brands Hatch" explained the team owner.
"Josh and I have spoken extensively over the past few days and he recently visited us at our headquarters in Bolton. It was good that he liked the team dynamic, our philosophy and overall approach to bike racing. What is important now is that Josh goes to the next two rounds and enjoys the bike with absolutely no pressure. It is a great opportunity for the team to have someone with Josh's experience and talent on board and I think he will enjoy being part of our operation. We're pleased to have him and I am looking forward to seeing both Lee and Josh on the grid in a few days at Silverstone," concluded the team owner.
Waters issued the following statement with regard to his ride at Halsall Racing;
"I am really grateful for the opportunity that Martin has given me to ride the Kawasaki for the remaining two rounds of the season. For me personally I want to simply focus on the future, staying in BSB and working with a leading team. Martin has produced a bike capable of running at the front and winning the championship next season. The rest is down to me and I am determined to make this work. I was very impressed with the team and their entire approach to racing. There were so many similarities to the team I rode with for seven years in Australia, where I won two national superbike titles. Martin and I seem to share the same philosophy and values, so I look forward to working with him and his team."