Josh Excels with Yoshimura Suzuki Team at Suzuka 8 Hour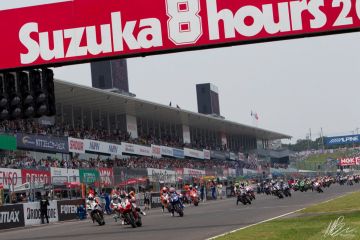 Josh Waters combined with Nobuatsu Aoki and Leon Camier entered the 35th Anniversary Suzuka 8 Hour Endurance Race last weekend, 27-29th July 2012. It was the third round of the World Endurance Championship and one of the worlds most famous and prestigious Endurance races.
Early July saw Josh spend 2 weeks in Japan getting familiar again with the Superbike he raced for Yoshimura in the World Superbike Championship in 2011 and raced to a second place finish at this event in 2011.
The team came together the week before the race and prepared a setup to suit all riders. Free Practice on Thursday allowed the team to get many laps completed in preparation for Qualifying on Friday. Josh felt comfortable on the bike and was consistently at the top end of the time sheets.
Friday's format had each rider for each team complete 2 qualifying runs. Josh was third fastest overall in the first Qualifying session and after another very hot day at the circuit completed second Qualifying on provisional pole. Josh set a new lap record with a time of 2.07.704.
Saturday afternoon was the Shootout for the Top 10 Qualifying Teams. All members competed in a Super Superpole session. In a sizzling session the pace was fast and it was a nail biter to the end. Josh set a new best lap of 2.07.297 for the Yoshimura Team and secured a 3rd place start for Sunday.
Sunday, race day, had the team excited for a long hard day with hopes of a strong finish. Josh's running training in the Australian hot summers paid off and he was first out and in the lead for the first laps of the race.
The team settled into a good rhythm, jostling between second and third and staying within striking distance of the lead. Josh then Leon then Josh again completed their sessions and then bad luck found the team. Nobu had to come back to the pits with an engine issue which took up valuable time. Josh got back on the track in 26th position and began to gain positions again. By the 7th hour they were back to 12th and gaining with high hopes of pushing for a top 5 finish. More bad luck unfortunately found the team and they were forced to retire 45 mins before the end.
Josh said "After qualifying, to be on provisional Pole and then third in Superpole with a great lap time was an achievement. The race started off great and we did some really quick lap times and settled-in behind 'Kiyo,' then we got caught-up with some lapped traffic but we were still only around three seconds behind. Unfortunately we had a yellow flag passing incident and got penalised, but we were still there and going strong until around four hours when we had the engine issue and then spent a lot of time in the pits. Although we dropped way down, we got back up into the top 10 from around 26th with some really fast lap times, until we had the problem. But despite the obvious disappointment for all of us, it's been great to be part of the team again and we've got a lot of positives to take from it."
Complements on Josh's performance were flowing, like team mate Leon Camier said "Everyone's disappointed but that's endurance racing. It's just one of those things... It's like short-sprint racing but for eight hours. I've got to say Josh has done an amazing job all weekend, through testing and qualifying and he's just been so fast""
Josh is now home and will start gearing-up for the penultimate round of the Australian Superbike Championship on August 17-19th at Phillip Island in Victoria where he goes into the round holding a commanding 30.5-point series lead.
Below are the Press Releases posted by Yoshimura Suzuki during and following the 2012 Suzuka 8 Hour. Photographs are courtesy of Andrew Gosling – tbgsport.
Josh would like to thank Yoshimura Suzuki and Suzuki Austral for this fantastic opportunity and his personal sponsors Cool Air Conditioning, Arai, Alpinestars, Oakley, Armourdillo and Ogio for the support.
Post race report
http://www.suzuki-racing.com/suzuki-still-leads-after-suzuka-crash.34958.cms?SRS_ID=8
Post qualifying report
http://www.suzuki-racing.com/yoshimura--suzuki-3rd-in-top-10-trial.34921.cms?SRS_ID=8
Free Practise Report
http://www.suzuki-racing.com/yoshimura-suzuki-tops-suzuka-qualifying.34913.cms?SRS_ID=8
Suzuki Racing Australia Report
http://www.suzukimotorcycles.com.au/news/team-suzuki-race-reports/asbk-leader-josh-waters-stars-for-yoshimura-suzuki-at-suzuka.html