Team Suzuki sign Josh for 2012 Superbike season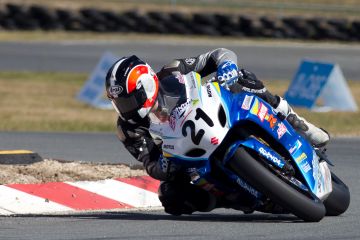 Team Suzuki is pleased to announce its rider line-up for the 2012 Australian Superbike Championship, which commences at Phillip Island in Victoria on 24-26 February.
2009 series champion Josh Waters will once again compete in the premier Superbike ranks aboard the Phil Tainton Racing-prepared 2012 model Suzuki GSX-R1000, to be joined by experienced Team Suzuki newcomer Ben Attard. Waters and Attard will make up the team's two-rider factory squad in the Superbike ranks, on track to take advantage of a highly anticipated updated version of the GSX-R1000. The team intends to debut the new model at the opening round of the series.
After finishing fifth in the ASBK series last year despite contesting a limited schedule due to international commitments, Waters will enter this year's series as a clear title contender as he competes in the entire series once again. "Last year was great with the overseas opportunities, but it was difficult without having the carrot of the championship hanging in front of me at the end of the year," 24-year-old Waters explained. "This year we'll try hard and hopefully keep the ball rolling from the final three rounds of 2011. "I'm really looking forward to riding the new 2012 GSX-R1000, having a new bike to race will be great, so it's an exciting time as we prepare for the year ahead. Training-wise, I've been doing a lot of work with my brothers and will be ready for round one next month." Attard showed great promise in taking out the Supersport class of the Australian Endurance Championship for Team Suzuki alongside Brodie Waters and Mitchell Carr in December.
Team manager Phil Tainton is looking forward to a big year with the return of Josh and Brodie Waters and Robbie Bugden, as well as welcoming Ben Attard to the team in place of Troy Herfoss, who is racing overseas this year.
"I'm really confident that the team we have in place for 2012 will be a great one," Tainton explained. "Josh is back to his former self, back to how he was before the major accident he had in 2010, so I think he'll really show them the way around this year. I was also so impressed with the way Brodie was riding at the end of last year, so if he can start this year off with the same form then I believe he can go ahead and have a very strong season.
Team Suzuki will make its official debut at next month's opening round of the Australian Superbike Championship, taking place at Phillip Island in Victoria alongside the opening round of the Superbike World Championship on 24-26 February.