Josh brings home 3rd and extends Championship lead after a wet Queensland Weekend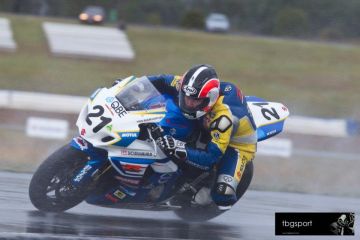 Team Suzuki's Josh Waters has extended his lead in the Australian Superbike Championship's after the fifth round at Queensland Raceway on 1-3 June aboard the 2012 model GSX-R1000.
Waters finished third overall in the Superbike ranks following a weekend of mixed weather conditions. The Superbike class saw Josh Waters finish with a consistent performance of 2-4 finishes in the pair of 17-lap races, stretching his series lead to a commanding 30.5 points with two rounds remaining.
Waters was top finisher on wet tyres in race one as Racer's Edge Performance Suzuki privateer Scott Charlton raced to a popular win when he gambled to start from pit lane on dry weather slick tyres, before backing that result up with a fighting fourth in race two once the sun shined.
"The first race was good when I finished second and the first bike on wets, but Scotty outsmarted us there!" Waters reflected. "I think it was his experience that got him over the line there, but he also didn't have anything to risk really.
"In the second race I felt good in the dry, but I was struggling to pull up under brakes from the start. So I just had to be smart to do what I could do. We have a bit of a break now and the Suzuka 8 Hour is coming up, so hopefully I can gain momentum from that."