Josh second at Phillip Island and leads Championship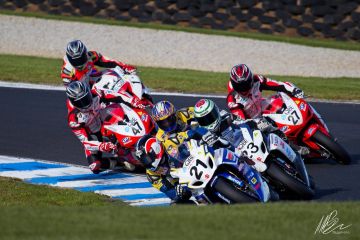 Team Suzuki's Josh Waters maintained his lead in the 2012 Australian Superbike Championship over the weekend, finishing second overall at Phillip Island in Victoria on 18-20 May.
Waters qualified second at the picturesque 4.445-kilometre Phillip Island Grand Prix Circuit on a weekend that saw the Superbikes compete alongside the V8 Supercars, before going on to seal two second place finishes in the pair of 12-lap races. The 25-year-old from Mildura led seven laps in Saturday's opening race and nine laps in race two on Sunday, but was edged out for the victory on both occasions by title rival Wayne Maxwell. Waters finished 1.466 seconds behind Maxwell in race one and 0.571sec off the win in race two, but has retained the championship lead by a healthy 22.5-point margin following four of seven rounds.
"It was really close in all sessions and both races were good for us as far as the championship goes," the 2009 series champion said. "Second isn't a win, but it's still good for me in what was a pretty tough weekend. I led for a lot of laps during the races, so we were definitely really close during the sessions and in the races. We'll move onto Queensland now and hopefully do well up there."
Team Suzuki Supersport regular Brodie Waters returned for his second Superbike outing on the GSX-R1000, claiming ninth overall as he gains further experience in the sport's premier category on a domestic level. With ninth in race one and a promising eighth in the second, Waters enjoyed the additional seat time during the weekend.
The Australian Superbike and Supersport series will be back in action at Queensland Raceway in a standalone event on 1-3 June.
Round Four, 2012 AUSTRALIAN SUPERBIKE CHAMPIONSHIP
Superbike Round Results:
1. Wayne MAXWELL 51
2. Joshua WATERS (Team Suzuki) 40
3. Robert BUGDEN (Team Volvo Group Suzuki) 35
4. Jamie STAUFFER 34
5. Glenn ALLERTON 33
6. Ben ATTARD (Team Suzuki) 30
7. Scott CHARLTON (Racers Edge Performance Suzuki) 27
8. Ben HENRY (Cube Racing Suzuki) 26
9. Brodie WATERS (Team Suzuki) 25
Superbike Championship Standings:
1. Joshua WATERS (Team Suzuki) 170.5
2. Wayne MAXWELL 148
3. Glenn ALLERTON 129
4. Jamie STAUFFER 121.5
5. Robert BUGDEN (Team Volvo Group Suzuki) 118
6. Ben ATTARD (Team Suzuki) 115.5
7. Ben HENRY (Cube Racing Suzuki) 106.5
8. Scott CHARLTON (Racers Edge Performance Suzuki) 89
9. Brodie WATERS (Team Suzuki) 45
10. Chris TROUNSON 26