Josh Wins ASBK Philip Island opening Round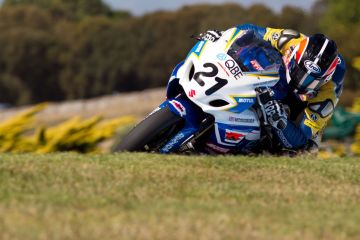 Josh Waters has launched his 2012 Australian Superbike Championship campaign with a win in Philip Island on the the weekend.
The opening round of the ASBK Championship series, ran in conjunction with the opening round of the 2012 World Superbike Championship. Waters has shifted his focus back to winning the Australian domesic championship this year and this result is a great indication of a strong season ahead.
Having been consistently in the top three throughout all practise and qualifying sessions, Waters turned up the wick in time for the Superpole laying down a 1.33.438 lap time, to edge out rival Wayne Waxwell and take home the bonus championship point on offer.
In Race One on Sunday, Waters left the field behind, winning in dominant fashion by over 8 seconds, in front of defending series champion Glenn Allerton. Race Two was not as easy for Waters as he battled lapped traffic in the final lap to be edged out by Maxwell by 0.499 of a second.
The weekend result was still good enough to secure the win overall and give Waters a 10 point lead in the championship.
"I'm really happy with how the weekend ended up for me and Team Suzuki. To get Superpole and win race one convincingly was great, I obviously would've liked to win race two also, but to come away with a 10 point lead in the championship is a great start to the season. I'm really looking forward to taking this momentum to Hidden Valley (NT) where I know we will be strong." Waters said.
The 2012 Australian Superbike Championship (ASBK) continues in the Hidden Valley circuit in Darwin on April 20-22.