Josh Waters raced to the overall victory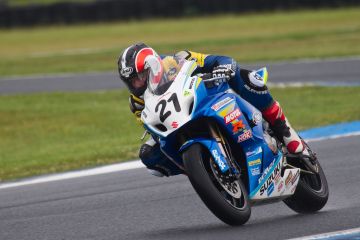 Josh Waters raced to the overall victory in the premier Superbike ranks aboard the Phil Tainton Racing-prepared GSX-R1000. The 24-year-old finished with 2-1 results in the pair of 12-lap races; however it was the point for winning Superpole qualifying on Saturday that clinched him the overall.
Waters and Wayne Maxwell had a tight tussle in the first race on Sunday, with Maxwell gaining the win by just 0.087 of a second in a photo finish, before Waters bounced back with a comfortable 3.478-second victory in the second outing. "It was a great weekend and I was able to post the fastest times on both Friday and Saturday," Waters reflected. "In the first race on Sunday I led up until three turns to go, but Maxwell is really strong around there and he outsmarted me for the win. In the second race I knew I had to break them at the start and I was able to do that. I ran a lot faster pace and got the job done, so that was a great way to finish off the year for myself and Team Suzuki."
Despite contesting a limited schedule in Australia during 2011, Waters rounded out the championship in fifth position overall after winning four races and two rounds for the year.
Team Suzuki manager Phil Tainton congratulated the entire team on their results in 2011, proud to finish the season on a high note with wins in both classes. He was also pleased to see both Herfoss and Brodie Waters in the top three of their respective classes for the year. "Josh was impressive again after we initially had some trouble finding a good setting with the rear shock, but once we had that sorted for Sunday he proved what he could do with a great win in race two," Tainton said.